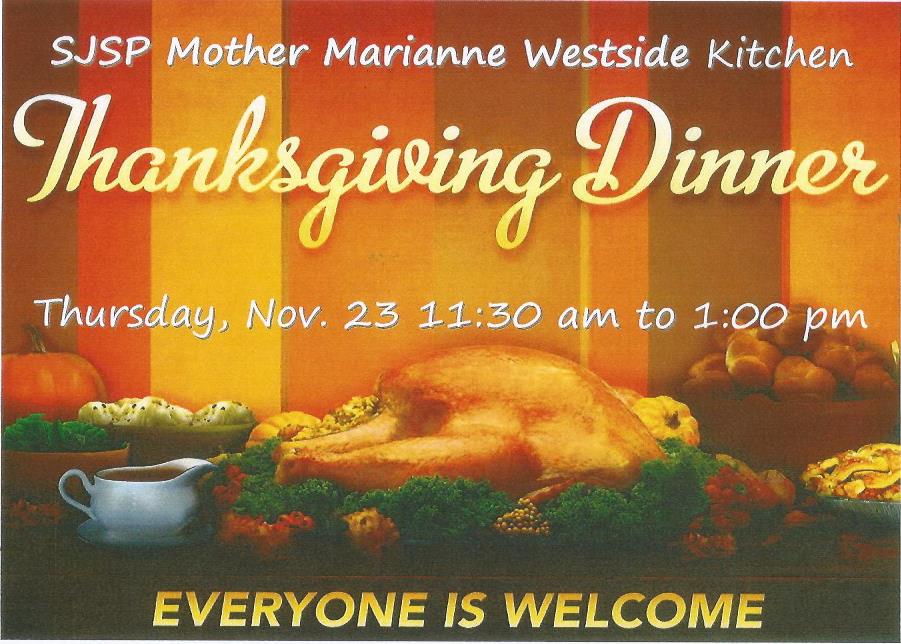 ​SJSP Mother Marianne Westside Kitchen
is serving a Traditional Thanksgiving meal on
Thanksgiving Day Nov. 23 from 11:30 pm to 1:00 pm.
Turkeys, Stuffing, & Cranberry sauce are most welcome!
Your time to prepare meals or serve on Thanksgiving Day is also needed and most welcome!
God's Blessings in THANKS for your consideration ​to help those in need.
Contact Ed Morgan, WSK Director (315) 732-5099 regarding
​your donations of food and/or time.
Meals Served in September = 4,642


SJSP Mother Marianne Westside Kitchen


---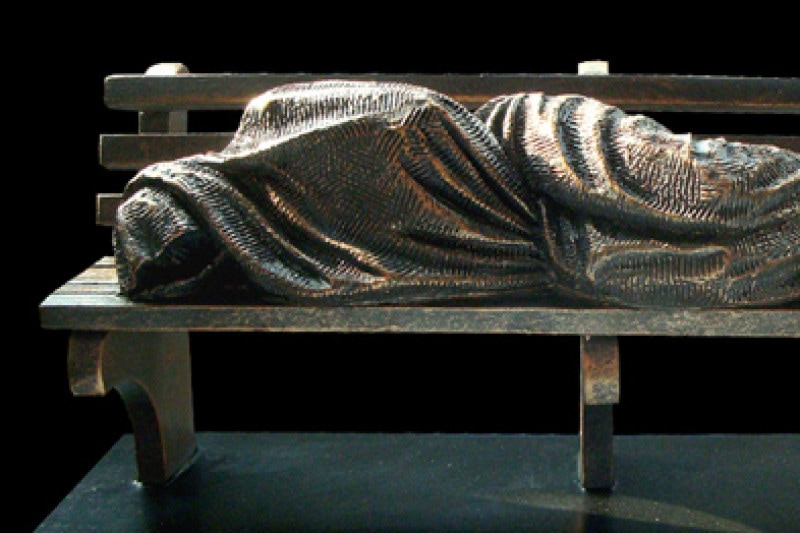 SJSP Mother Marianne Westside Kitchen GoFundMe Campaign!
We ask you to consider making a donation today to the Mother Marianne WestSide Kitchen GoFund Me Campaign. Thank you for your help and please share this message and the link with all your friends and associates -- together we can feed a child, a family. Peace and All Good!

Food is a Stepping Stone to Hope – You Can Help With the First Step
The volunteers of Mother Marianne's West Side Kitchen open their arms daily to the poor, homeless and lonely. They provide hot meals, bag lunches, and a warm, welcoming environment.

YOU are the reason why Mother Marianne's West Side Kitchen has been able to feed the hungry since 2008. And YOU are the reason why we will be able to continue to serve.
Need to know more? Go to our Mother Marianne Westside Kitchen Page or Click Button below.
Thank you so much in advance for your consideration.

Rev. Richard Dellos - Pastor, St. Joseph-St. Patrick Church
Ed Morgan - Westside Kitchen Director (315) 732-5099
Katie Koscinski - Westside Kitchen Volunteer Coordinator (315) 797-1985

Sculpture by Canadian sculptor Timothy Schmalz.
Help spread the word!
---
SJSP Mother Marianne Westside Kitchen has a spot in
The Community Foundation Commercial...
one of our partners. Thank you to The Community Foundation for including us and God Bless ALL your endeavors connecting our community with endless possibilities!
---
St. Joseph & St. Patrick Church Mother Marianne Westside Kitchen
~ Corporal Works of Mercy in Action ~
A BIG Thank YOU to all the volunteers that stepped during our time of transition. We also want to welcome all the new volunteers that have answered the call to do Corporal Works of Mercy. The warmth and smiles shared are treasures between all giving and all receiving. Be prepared for a wave of blessings as you can
never outdo the generosity of Him.

Edward Morgan as the
new SJSP WSK Director:

Katie Koscinski, SJSP WSK Volunteer Coordinator




Mother Marianne's Westside Kitchen
9 Years and going strong!
​God Bless and thank you to all who help keep corporal works of Mercy alive in our parish.
---
Our Mother Marianne's Westside Kitchen since 2008
---
We believe that everyone deserves a nutritious and delicious meal; especially the youth and those in need in our community. Our Mission goes beyond serving the hungry, we are partnered with local agencies that provide information and counseling for our guests.

Interested in donating or volunteering?

Contact: Katie Koscinski (315) 797-1985 Email: SJSPUtica@syrdio.org

Donations needed and always welcome.
Please drop in the mail, church collection, or rectory office.

God Bless you and thank you in advance for your consideration
in supporting our Mission!

SJSP Mother Marianne's Westside Kitchen: Evangelization at its best exemplifying St. Marianne.