Christ the King Shrine ~
Site of the Apparition
of Christ, Flanagan Road
Marcy off Rte 49
Tues, July 4 at 10:30 am
join us in honoring our country servicemen & women with prayers & rosary for Peace. Rosary led by Mike Dziura
You are most welcome to Pray the Rosary every Thursday at 5:30 pm June thru September
at Christ the King Shrine.



---

Tuesday ~ July 11
Talk, Food, Wine* Free!
2nd Tuesday of every month
​at 6:30 pm
Mohawk Valley Winery > 706 Varick Street (Utica)
Gathering to reconnect or connect for the first time.
Adults 40+
No commitment necessary
Questions/Contact: Deborah Sullivan (315) 735-4429 x4
(*First Glass of Wine Free)
(Held on MVW patio in back >
rain date July 18)
Sponsored by The Diocese of Syracuse McDevitt Evangelization Grant
awarded to SJSP


---

Gift a Loved One!​​
St. Marianne Cope's Garden Shrine on Schuyler Street

---






Update on St. Marianne Garden Shrine:
Thank you everyone for being so generous with your donations to the St. Marianne Garden Shrine. Optimum time for the unveiling has been tentatively scheduled for September 10th; more info to follow.
The memoriam plaques will always be offered
with donations of $100.00 or more going towards landscaping and upkeep of the grounds. Deadline for memoriam plaques to be displayed for initial unveiling is July 16th. Please place donations in the collection basket or mail to the rectory office w/attention to Deborah Sullivan. Please state "in memory" or "in honor" of with name to be acknowledged on
​ a garden plaque.





---

Pitch & Pray Card League
Do you enjoy playing cards?
Then St. Joseph & St. Patrick Church Pitch and Pray League is for you.
Come join our league for some fun, socializing and snacks.
Mondays
6:30 pm to 8:30 pm
Teams are starting up again
Fall 2017!
Cost: $5 per person per week plus money for ups.
Contact George & Cheryl Staley @ (315) 507-2661



SJSP Mother Marianne Westside Kitchen GoFundMe Campaign!
Summer months are very difficult for many people in our community. The Mother Marianne WestSide Kitchen serves many more children during the summer since they are not in school. In the meantime, this is also a time when donations of food and support drop because many people are on vacation. I ask you to consider making a donation today to the Mother Marianne WestSide Kitchen GoFund Me Campaign. Thank you for your help and please share this message and the link with all your friends and associates -- together we can feed a child, a family. Peace and All Good! ​

Mother Marianne
​WSK request:
Ice pops and powered drink mixes needed.
Contact: Ed Morgan
315-732-5099

---

New Ministry!
Traveling Rosary for Peace
Rosary was purchased & blessed at the
Blue Army Shrine.
Program: Rosary is available in our Mother Marianne Book Shoppe at 7:30 am Masses to borrow by the week in prayer for peace.
Please contact Sandra Maher at (315) 717-5005
if you are interested in participating in this beautiful mission encouraged
by Blessed Mary herself.


---

THE BENEDICTINE OBLATES OF UTICA
are hosting a Day Retreat to take place on Saturday, July 22, 2017 from 9:00am to 3:00pm at the PARISH CENTER at St. Joseph/St. Patrick's Church. Our theme will be "Prefer Nothing to the Love of Christ" and our special guest Retreat Master will be Sister Donald Cocoran, Co-Founder of Transfiguration Monastery in Windsor, NY, a community of Contemplative Benedictine Sisters. Sister Donald has a PhD in Theology and is well known nationwide for her speaking and Retreats. She is pleased to be with us to provide an enriching summer time spiritual retreat. She will employ the use of Holy Images, music, poetry and a time for Reflection as well as Question and Answer sessions for both morning and afternoon. All are welcome, but if you plan to have lunch, please RSVP so that we may plan accordingly.
Contact Mr. George Gallien at 315-339-1419 (please leave him a message if he is not available) so that we may plan effectively.
Thank you and we look forward to meeting you!

SJSP Annual Golf Outing
Sunday, July 16
Nolan Family Memorial
to benefit
SJSP Mother Marianne Westside Kitchen
Special Guests:
Wayne Levi & Fr. Dellos
$70 includes cart, 18 holes, lunch & steak dinner.
(​$16 dinner only)
Tee-Time: Noon
Get your foursome
together now!
Prizes, skins & fun!
Event Contacts:
Mary Beth Fortnam
(315) 725-1753
Kelly Hartman
(315) 247-1848



---

Marian Eucharistic Healing Conference
(Eastern Region) 2017
Tues., July 25, 2017
6:30 pm to 9:00 pm
SJSP Church, Utica
Praise & Worship, Rosary, Mass, Adoration & Healing Session (FREE)

Retreat is Sat., July 29 ~ Sun. July 30, 2017
(Retreat pre-registration required)
Retreat Venue: Christ the King (CTK) Retreat House
500 Brookford Rd. Syracuse, NY 13224
Keynote Speaker: Rev. Fr. Joby Kachappilly, VC
Founder of Divine Retreat Center, Toronto, Canada
Event Contacts: Ellen Benton at ebenton@syrdio.org
(315) 735-4429 x5
or Don at spiritusrc@gmail.com (315) 668-2258


Your Perpetual Adoration Invitation
to spend an hour with Him.
Unwind, pray, have hope, say thank you.
Come relax in His
stress-free zone.
To book your time with Him, call
Rose Marie Roberts
(315) 507-1305

SJSP Perpetual
Adoration Chapel
25 years going strong
702 Columbia Street
Utica, NY

---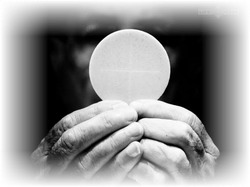 NEED THE EUCHARIST?
If you or someone you know is Hospitalized, in a Nursing Home, or Homebound and wish to receive the Eucharist and is a member of this parish please contact Maureen Mayer (315) 734-0504 . We are also in need of Eucharistic Ministers for the sick & homebound. If you are a EM, please do not forget to sign log book in Church sacristy of dates of visits. Thank you for your help in this beautiful mission.


---
---