26th Anniversary
of the Eastern
Region Perpetual Eucharist
Adoration Chapel
at St. Joseph & St. Patrick Church

All are invited:
March 4, 2018
St. Joseph & St Patrick Church
Holy Hour @ 3:15 followed
by Soup & sandwiches at the Parish Center.

Contact Rose Marie Roberts
@ 315- 507-1305 after 5pm
​for more information.



---

Bus Trip to NYC
Our own assistant organist Dominic Fiacco will be performing a debut concert in New York City on May 13, 2018 at the Cathedral of St. John the Divine. A bus trip is being planned. Cost is $80 per person. Bus departs at
approximately 10am and returns at approximately 11pm.
Interested parties should call Andrew Siuta at (315) 796-1466. Seats are going fast.

Patrons/Donations Needed Patrons and donations are
being sought to help defray the costs of the Fiacco family
to travel to New York City and overnight stay for Dominic's rehearsal and concert. Those interested in sponsoring
Dominic and his family should please contact Andrew Siuta at (315) 796-1466.

---

Catch The Wild Goose at SJSP!
The Wild Goose is an instructional series on the Holy Spirit as we continue our road
to the New Pentecost. This will be helpful to all of us to understand the Holy Spirit better and to get closer to the Holy Spirit. Presenter is Franciscan Friar Dave Pivonka. You can catch The Wild Goose Program on your digital device at your convenience at home on
FORMED access code ZZTPHQ
and/or we are offering for you to come and join us to view the 14 week series after all weekend Masses at our Rectory
February 24/25 immediately after all weekend Masses.
Refreshments served.
Sessions are 30 minutes.
Sixth Session Titled:
The Spirit and the Desert

---


Tuesday ~ March 13
Talk, Food, Wine* Free!
Guest speaker, our very own
Rev. Richard Dellos,
Priest at
St. Joseph & St. Patrick Church
2nd Tuesday of every month
6:30 pm to 8:00 pm
Mohawk Valley Winery > 706 Varick Street (Utica)
Conversations for the believers, the curious and the skeptics.
Adults 40+
No commitment necessary
Questions/Contact: Deborah Sullivan (315) 735-4429 x4
(*First Glass of Wine Free)
Sponsored by The Diocese of Syracuse McDevitt Evangelization Grant
awarded to SJSP


---

---

Tuesday, February 20
Time/Place: 6:30 pm
SJSP Rectory
Feature: The Shack
​Synopsis: After a tragedy, a father is taken on a spiritual journey that transforms his view of God & purpose of existence.
Admission/Refreshments:
​FREE

Coming Attactions:
March 20:
St. Patrick, the Irish Legend
April 17:
Oceans of Mercy
May 15:
I am Not Ashamed
June 19:
​St. Anthony


Great Idea for Lent
Lent is a time for giving and sharing. In the Franciscan Spirit of St. Marianne Cope our Mother Marianne Book Shoppe is collecting personal hygiene products. These items will be distributed to guests at our SJSP Mother Marianne Westside Kitchen. Wish List: toothpaste, toothbrushes, soap, shampoo, deodorant, baby wipes, etc. Monetary donations are also most welcome for purchase of these products. We are accepting items from
Ash Wednesday thru Palm Sunday at our Mother Marianne Book Shoppe before or after Masses or a basket will be available outside our Eucharistic Perpetual Adoration Chapel in the hallway.
This is a great deed of mercy
for less fortunate.
Thank you all & God Bless. Doris Horton, OSF
Questions: (315) 733-0700


---

IGNITE 2018 Catholic Men's Conference

Attention men of the parish,
the theme for the 10th Annual
IGNITE Men's Conference is
10 Years of Building Your Faith.
Again we have 3 tremendous speakers that will challenge all who attend. You can be part of it on Saturday, March 24, 2018 at the SRC Arena & Event Center for an amazing day that will have a tremendous impact on you. You can register for the IGNITE 2018 Catholic Men's Conference online at www.ignitecatholicmen.org or contact our parish captain Blair Kahler at (315) 797-5239.
Sign up now. Limited seating available.


---

Healing Mass at SJSP!
First Tuesday of every month
Healing Mass
for the
Unity of Family
5:30 pm Mass in SJSP Church followed by music, prayer
with Mary the Mother
of God as our intercessory
for family healing led
​ by Rev. Anthony LaFache


---

9 Week Novena to "Our Lady Undoer of Knots" Novena is recited before 5:30 pm Mass every Tuesday in the Parish Center/Church. Prayer cards and blessed miraculous Medals from National Shrine of Our Lady are available to all who attend. Come and ask Our Lady to undo the knots in the ribbon of your life,- family problems, sickness, unemployment, divorce, loss of a loved one. Tell her about all of your struggles. God gives her the power. For more info: Anna Marie Piacentino (315) 735-8375

Your Perpetual Adoration Invitation
Please join me…
I wish to give you relief
from a busy day.
I wish to give you peace.
I wish to give you warm hugs
if you are in grief in anyway.
Thank you for
your time with me;
I promise to give you
so much more.
Please join me.

Rose Roberts can offer
you time with me
at (315) 507-1305
SJSP Perpetual
Adoration Chapel
25 years going strong
702 Columbia Street
Utica, NY

---

Traveling Rosary for Peace
Rosary was purchased & blessed at the
Blue Army Shrine.
Program: Rosary is available in our Mother Marianne Book Shoppe at 7:30 am Masses to borrow by the week in prayer for peace.
Please contact Sandra Maher at (315) 717-5005
if you are interested in participating in this beautiful mission encouraged
by Blessed Mary herself.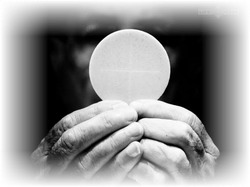 NEED THE EUCHARIST?
If you or someone you know is Hospitalized, in a Nursing Home, or Homebound and wish to receive the Eucharist and is a member of this parish please contact Maureen Mayer (315) 734-0504 . We are also in need of Eucharistic Ministers for the sick & homebound.
​If you are a EM, please do not forget to sign log book in Church sacristy of dates of visits. Thank you for your help in this beautiful mission.


---
---