Save the Date to Decorate!
Please join us ~
Any help is most welcome.
Sun., December 17 at 11:30 am
(After 10:30 am Mass)
Deck the Halls!
Refreshments provided.


---

Mother Marianne Westside Kitchen News: Our Westside Kitchen Advisory Board submitted for a grant from the Community Foundation Fund with a request for new round tables, chairs, new floors and carpeting, air conditioning, & general repairs for our SJSP Parish Center in the amount of $22,980.00. Their generous response was to do a Matching Gift Fund. They will match what we raise now thru April 2018 up to the amount of $11,490.00!
Thank you all for your past and continued support to MATCH THAT GIFT!

Lets keep the warmth
of giving going for the
Christmas Dinner served Monday, Christmas Day 11:30 am to 1:00 pm
at our SJSP Mother Marianne Westside Kitchen!
Donations of Ham, Potatoes, Corn, Peas can be dropped off at our Westside Kitchen between the hours of 9:30 am and 1:00 pm Monday thru Friday or Sat./Sun. between 11:30 am and 12:30 pm.
To volunteer to prep and/or serve for Christmas Day Dinner, please call Ed Morgan
​ (315) 732-5099



Tuesday ~ December 12
Talk, Food, Wine* Free!
In December we are honored to have as guest speaker,
​Rev. Joseph Salerno, Pastor
Our Lady of the Rosary & Our Lady of Lourdes Churches.
2nd Tuesday of every month
6:30 pm to 8:00 pm
Mohawk Valley Winery > 706 Varick Street (Utica)
Conversations for the believers, the curious and the skeptics.
Adults 40+
No commitment necessary
Questions/Contact: Deborah Sullivan (315) 735-4429 x4
(*First Glass of Wine Free)
Sponsored by The Diocese of Syracuse McDevitt Evangelization Grant
awarded to SJSP


Two Chances to
"Prepare for Him"
SJSP Church Advent Sacrament of Reconciliation
Saturday, December 9th
11:00 am to Noon
2:00 pm to 3:45 pm
and
The Light is On for You
Monday, December 18
4:00 pm to 7:00 pm
All Churches



---

Young adults in their 20's & 30's are invited to Theology on Tap (TOT) for conversation and Catholic theology.
Join us Wednesday,
December 20th at 7pm at Corked Wine Bar.
Speakers:TBA
Join us for food, drinks, and fellowship. TOT occurs the third Wednesday of each month,
the event is FREE so be sure to invite a friend!
For more information or questions please contact
Sarah Fitzgerald at sfitzgerald@syrdio.org or call/text 315-807-7694.
Find us on Facebook
www.facebook.com/SYR.YAM/

SJSP Giving Tree
"Wish" gift tags available
November 18th
​in our Church Vestibule.
Please consider adding our Giving Tree to your Christmas traditions helping
25 families from the
Thea Bowman House
have a very Merry Christmas.
All gifts should be wrapped and tagged and returned
to our Mother Marianne Book Shoppe by
Sunday, December 10.
Thank you! XO


---

December Movie Night!
Tuesday, December 19
Time/Place: 6:30 pm
SJSP Rectory
Feature:
St. Nicholas, The Real Story
This film explores the life and legacy of the man we know as Santa Claus.
Doc/Drama-55 mins.
Admission/Refreshments: FREE



---

​"Little Christmas" Party
Come and celebrate the end of the Christmas season with us on The Feast of Epiphany Sunday, January 7, 2018
after the 10:30 Mass in our SJSP Parish Center.
"May the Merry of Christmas be in our Hearts all year."



---

Your Perpetual Adoration Invitation
Please join me…
I wish to give you relief
from a busy day.
I wish to give you peace.
I wish to give you warm hugs
if you are in grief in anyway.
Thank you for
your time with me;
I promise to give you
so much more.
Please join me.

Rose Roberts can offer
you time with me
at (315) 507-1305
SJSP Perpetual
Adoration Chapel
25 years going strong
702 Columbia Street
Utica, NY

---

Traveling Rosary for Peace
Rosary was purchased & blessed at the
Blue Army Shrine.
Program: Rosary is available in our Mother Marianne Book Shoppe at 7:30 am Masses to borrow by the week in prayer for peace.
Please contact Sandra Maher at (315) 717-5005
if you are interested in participating in this beautiful mission encouraged
by Blessed Mary herself.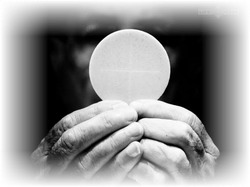 NEED THE EUCHARIST?
If you or someone you know is Hospitalized, in a Nursing Home, or Homebound and wish to receive the Eucharist and is a member of this parish please contact Maureen Mayer (315) 734-0504 . We are also in need of Eucharistic Ministers for the sick & homebound.
​If you are a EM, please do not forget to sign log book in Church sacristy of dates of visits. Thank you for your help in this beautiful mission.


---
---