Year of the Family
Most Rev. Robert J. Cunningham, Bishop of Syracuse, is pleased to declare a Year of the Family from
​ first week of Advent and concluding on the Feast of Christ the King (Nov. 25 2018).
For more information, visit syracusediocese.org and click on YEAR OF THE FAMILY.
​ (or click button below)

Sign up to receive Year of the Family messages from Bishop Cunningham and the Diocese of Syracuse: visit syracusediocese.org and click SIGN UP to receive weekly video messages from Bishop Cunningham, practical suggestions for strengthening your family's Catholic faith, and more.
​It's free to join and you can unsubscribe at any time.Prayer for the Family
O God, who was pleased to give us the shining example of the Holy Family, graciously grant that we may imitate them in practicing the virtues of family life. Transform our doubt to faith; Strengthen our hope; Help us to live in charity. Until we are all one in your kingdom through Jesus Christ, your Son,
​ in the unity of the Holy Spirit, One God, for ever and ever.
(Adapted from the Roman Missal, on the Feast of the Holy Family of Jesus, Mary & Joseph)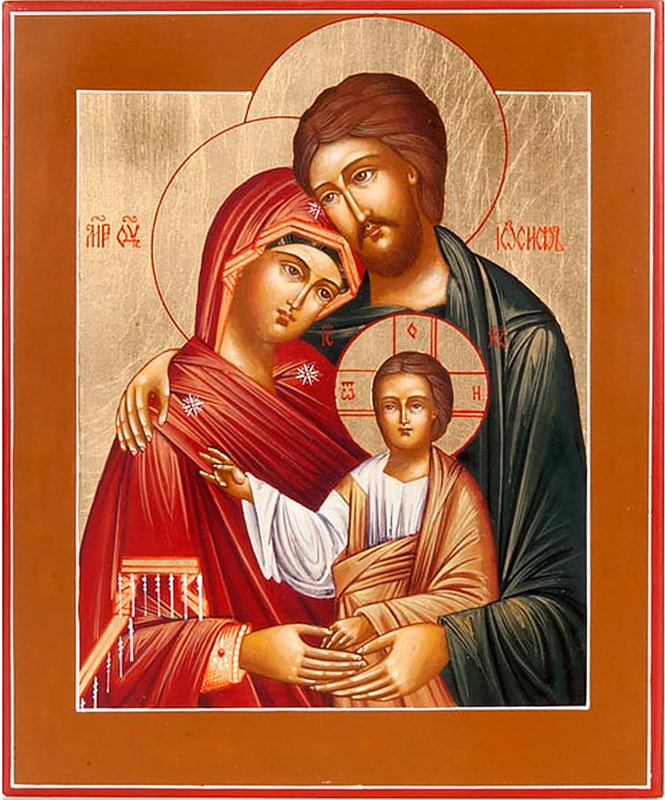 ---
---
St. Marianne Cope Home Garden Shrine Dedication October 22, 2017
620 Schuyler Street Utica, NY
St. Joseph & St. Patrick Church would like to thank all involved for helping make
​the vision of a peaceful garden in honor of St. Marianne a reality.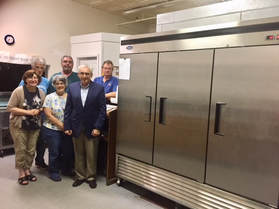 SJSP Mother Marianne Westside Kitchen in thanks to local services in our area willing to help support our Mission!
Thanks to the Food Bank of Central New York, St. Joseph & St. Patrick Church Mother Marianne Westside Kitchen was able to purchase a new stainless steel 3 door refrigerator. The amount of the grant awarded was $3,225.00. SJSP Mother Marianne Westside Kitchen has been feeding our hungry neighbors 365 days a year for 9 years. The average number of meals served monthly is 4500. To help further boost the promise of serving a nutritious meal daily, the Westside Kitchen has created a GoFundMe Page at https://www.gofundme.com/westsidekitchen stating that Food is a Stepping Stone to Hope – You Can Help With the First Step. The volunteers of SJSP Mother Marianne Westside Kitchen open their arms daily to the poor, homeless and lonely. Their guests range in age from two to ninety-two. Your time to volunteer and/or food/monetary donations are most welcome and needed especially with the holidays not far away. The kitchen as always will be open and all are invited on Christmas Day from 11:30 am to 1:00 pm. Please call SJSP Mother Marianne Westside Kitchen Director Ed Morgan (315) 732-5099 ​regarding your donations of food and/or time.

Our Westside Kitchen Advisory Board submitted for a grant from the Community Foundation Fund with a request for new round tables, chairs, new floors and carpeting, air conditioning, & general repairs for our SJSP Parish Center in the amount of $22,980.00. Their generous response was to do a Matching Gift Fund. They will match what we raise now thru April 2018 up to the amount of $11,490.00!

Thank you all for your past and continued support to MATCH THAT GIFT!
---
---
---
FORMED
The best Catholic content.
All in in one place.
Our parish has unlimited access to the best eBooks, talks, and videos in the Church today.
Formed.org SJSP Access Code: ZZTPHQ
Note: Fr. Dellos is highly recommending the Wild Goose Series on FORMED.
---

Classes are now in session.
Sundays 8:45 am to 10:15 am in our Parish Center
If you are new to the program and are interested in having your child attend classes,
please contact Cheryl Staley at (315) 527-7928.
VIRTUS training is needed for anyone that works with children and
they can reach out to Cheryl for additional information.​


---

SJSP is Caring ~ Sharing ~ Involved

Perpetual Eucharistic Adoration
~​25 years 24/7 in Adoration of Our Lord~
Contact: Rose Marie Roberts (315) 507-1305
SJSP Mother Marianne Westside Kitchen for 9 years
serving lunches daily 11:30 am to 12:30 pm
Host Parish of Divine Mercy Sunday for 28 years
~Offering Prayer Groups & Bible Study~


Be sure to check out all of our Pages & Events Page ~
always something new going on!
---
---
Meet our Pastoral Staff
Rev. Richard Dellos, Pastor
Rev. Richard O'Neill
Rev. Anthony LaFache
​Rev. Ralph J. Fraats

Perpetual Eucharistic Adoration: Rose Marie Roberts (315) 507-1305
SJSP Mother Marianne Westside Kitchen Director: Ed Morgan (315) 732-5099
SJSP Mother Marianne Westside Kitchen Volunteer Coordinator: Katie Koscinski (315) 797-1985
Religious Education: Cheryl Staley, DRE (315) 507-2661
RCIA: Rev. Richard Dellos (315) 735-4429 x 2
Evangelization: Ellen Benton (315) 735-4429 x5
Mother Marianne Book Shoppe: Doris Horton (315) 733-0700

Office Administrator/Media Editor: Deborah Sullivan (315) 735-4429 x4

Rectory Office Hours: Monday thru Thursday 9am to 1pm & Friday 9am to Noon
(315) 735-4429 x4

Mother Marianne Book Shoppe Hours: Before and After weekend Masses
SJSP Mother Marianne Book Shoppe! Much Media and items to inspire and enhance your
​giving. We have lots of HAPPY you can share.


Five Ways We Can Make Our Parish the Best

1. Think of yourself as part of our parish family. Family members share a common heritage & history. They are grounded in the same beliefs, values & traditions. They embrace new members of the family with a spirit of love and acceptance. Family members don't always agree, but they do feel a strong commitment to one another & to the family as a whole.
2. Be welcoming. When we come together at Mass, think of it as a large family reunion, with people you know well, know slightly, and don't know at all. Introduce yourself to people you don't know. If they are new to the parish, offer to give them a tour, introduce them to other parishioners or simply tell them why you love our parish. Every time you smile at someone, it is an action of love, a gift to that person, a beautiful thing. ~ Blessed Teresa of Calcutta.
3. Use your gifts & talents to make our Parish whole. Our volunteers are the heart of SJSP.
We need you.
4. Attend parish events. Meet new people - feel connected. Invite family members, friends, and co-workers. People who may not be ready to attend Mass, might enjoy coming to an event and see the great times we have to offer.
5. Pray for our Parish. Keep our pastor, parish staff, & fellow parishioners in our daily prayers. Saying a
Rosary, spending time in Adoration, fasting, or offering up suffering, annoyance or inconvenience you
experience for the well being of our parish will bring rewards not just for our parish, but for you personally. Pray for Catholics who have strayed from the practice of their faith, people raised with no faith, and people searching for meaning and purpose in life. No parish is perfect and even the best parishes can improve.
---